Let's face it;
Nobody has the extra time on their hands when working on a report project or an assignment, that's why everybody asks these questions:
I need a cover page template for my assignment and I don't have the time to start designing from scratch?
where can I find the cover page template ready to use?
what kind of cover page template design for a project or business presentation that I need to implement? and so on…
The right answer for these questions is that you don't need to worry about the title page template, keep calm and relaxe, because in this article, i will tell you all what you need to know about the cover pages so that when presented, your report will stand out and impress anyone that receive it.
Let's dive in:
A cover page or a title page of a book, thesis, or other written work is the page at or near the front which displays its title, subtitle, author, publisher, and edition. (A half-title, by contrast, displays only the title of a work.)
Basically, it's the first page of any report for a project or an annual report, or any content that needs to be presented or read by someone else other than the writer,
Cover page template creation in Microsoft Word
Title page – After learning how to manipulate Cover pages in the first article. Using the cover pages already installed in Microsoft Word can save you a lot of time. But the problem is that you can't show your personnel touch to them. And since they are free everybody could use those cover pages, therefore the cover you use won't make you that special. Hence, in this article, we will be learning how to create your own personnel title page.
Its good to try and put in some effort in order to make a thoughtfully designed cover page template from scratch. However, its not that easy. You should have certain skills in graphics and design to make a great title page. But you can also create some good looking ones using only the tools provided by Microsoft Word.
Using a design or image created earlier :
If you know a thing or two about design, and you can create your own graphics and shapes elsewhere and save it as an image. It is going to minimize the work done using Ms word :
Upload the image to Ms word: Insert > Pictures.
Change its length and width so that the image fills the whole page.
Add text zones that will contain the information of the report. Insert>Text box and choose Draw Text Box.
A good title page should contain the following information:
Title.
Subtitle.
Author.
Author's Title.
Company Name/Logo.
Date of Completion/Submission.
A Brief Description of the Report.
Building a cover page template from scratch with Microsoft Office Word :
Set your margins :
To do that you need to go to Layout(In Word 2013 and 2016, click the Design tab instead of Page Layout.) then choose Margins.
You can choose from the ones given. Or click on Custom Margins, you will get the following window where you can choose the measurements manually :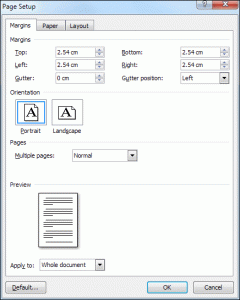 Choose your contours :
To set a border for the cover page template, go to the Page Layout/Design tab.  Locate the Page Background panel and click on Page Borders :
This window will appear :
Click on Box.
Choose the width you want.
Pick the border's style.
Make it Apply to This section.
Click OK.
Decorate with shapes and colors :
Microsoft word offers you a large list of shapes that you can use to decorate your cover page. Just go to Insert>Shapes and get started.
You can also change the colors and effects of shapes using the Shapes Styles panel.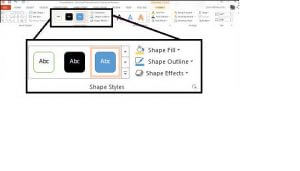 Add text boxes :
As we have already seen you need to add text boxes and fill them with the proper information.
Saving your cover page :
After you complete building your cover, it's time to save it. when it comes to saving your work there are multiple ways to do that:
First, you can save this document as a Microsoft Word template. To do that you need to go to File > Save As > Microsoft Word Template. A window will pop to make you save it in a location of your choice.
Second, you can go ahead and:
1- select every thing on that cover page you created by pressing CTRL + A .
2-  Add these selections to the Quick Parts gallery. Go to Ribbon > Insert > Quick Parts . Then select from the drop-down Save Selection to Quick Part Gallery….
3-   Finally, enter the details in the dialog for a New Building Block. Building blocks are reusable Microsoft Word elements that you can add to any of the galleries available in Word. Finally, press OK.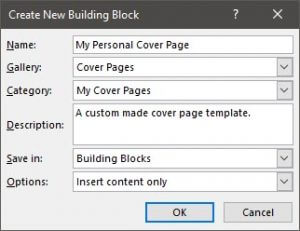 The final way of saving is more or less similar to the second. Instead of using Quick Parts, select the entire page and Go to the Insert tab and pull down the Cover Page gallery. Scroll to the very bottom and click the 'Save Selection to Cover Page Gallery…' option.
The cover will now appear in the Cover page gallery under the category you saved it to.
Cover Pages Implementation -How To- Tutorial MS Word
Cover Pages are required whenever you are assigned to do a report. Since this is the first thing the reader sees, therefore it is so important to choose the perfect one depending on the type of the report. Cover pages are essential to show the quality of your work and to attract more readers. However, creating a cover page needs certain skills, patience, and a lot of time. The goal of our website is to provide our clients with a variety of cover pages ready to use. Hence our clients can skip the time that could have been spent on the cover page and invest it somewhere else. But in this article, we are going to see how to use cover pages in MS word.
Cover pages should not be confused with cover letters and cover sheets. A cover letter is typically submitted alongside a resume by job seekers applying for a new position. While a cover sheet is a document you send along with a fax to provide additional information to the recipient.
Insert a cover page :
To begin with, MS provides you already with some built-in and predefined cover pages that you can use, to access them:
Open Microsoft Word
Open a document you wish to add a cover page to
Select the Insert tab from the Ribbon
Now click on Cover Page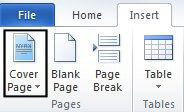 The Cover Page gallery will be displayed
Use the scroll bar to scroll down and view all available designs
Once you have identified the one you like, click it once with the left mouse button and it will appear on the first page, or you can click on it with the right button and MS will give you the possibility to place it in any other location
The cover page will be added to your document
You will now see prompts for where you can add text or content
Simply click into a text prompt and enter the information you wish to display, you may see that Microsoft Word will fill in some information for you, based on the information you entered when you installed MS Word. You can change this information if you need to by clicking inside the text area
Delete a cover page :
If you decide for some reason to remove the cover page, you can simply delete its content object by object (not recommended) or you can:
Select Insert > Cover Page
From the menu select Remove Current Cover Page
The cover page will automatically be removed leaving the rest of your document untouched
10 Cover Page Templates For Reports Built With Microsoft Word.
Cover Page Templates For Reports Built With Microsoft Word.
The cover page is the first thing that a person sees in any given report. Regardless of the report type or what you describe in its content. Adding a cover is an easy process previously described step by step to achieve awesome results, not to mention, to impress those who would receive your report, and give them a good idea about the content. Here you can find several Microsoft office – word – templates that you can use as title page right off the bat.
First of all, this item is selected for those who need Their work to feel authentic and have a certain hand-made feel to it. it's a star like the one you find in artistic crafts.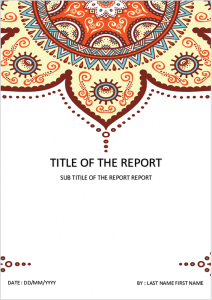 If you want to keep it simple and classic. It is not one of those where you can find a lot of colors and shapes. However, it still looks great.
This one is rather designed to be used in a professional domain. most noteworthy employees can put this cover page on their business reports and definitely, it will have a big hand in impressing their superiors.
Whenever there is a competition, and you need your report to pop. either to be the winner that you are. Or simply to get more points and get good scores in your studies. You can go ahead and pick this one and wait to see the results.
With its graphical design and its golden color, this great cover is best for those who love fancy stuff. It can make your report special and recognizable alongside many others.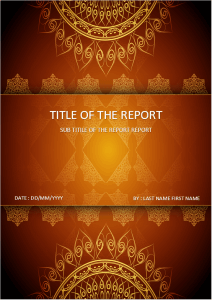 If you are someone that wishes to raise the bar high, this is the cover page that I would use. its unique geographical contour will make your report special even more.
This one is designed for our younger clients. Children also have school projects to do, therefore we thought of them and we propose this cover page for parents that love to see their children shine and remarkable.
This one is for those that just like simplicity and would want a cover that is different from what you usually see, its simple, cool but most importantly a very good looking cover page.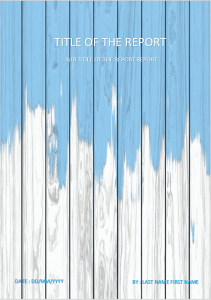 If you like painting, drawing, graphite, and all of those colorful and beautiful arts, this cover page is dedicated to you.
For the final cover page, we choose to put this one. We designed it for the nature lovers out there that prefer to decorate their work wildlife style. Moreover, you can use it as well if the subject of your report is related to the environment.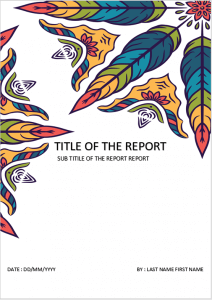 For all these cover pages and many more, you can visit our store. You can Browse our products randomly. Or if you know what you are looking for, you can choose the proper category.